"Domestic Terrorists"? A Federal Task Force that descended on small desert community with a "Kill List" is linked to the Nation's Capital and the Dept. of Justice (DoJ) by an alleged Dept. of Homeland Security (DHS) Whistle Blower.
…Per BLM agent Dan Love's kill list, the government planned to shoot the Bundy's first.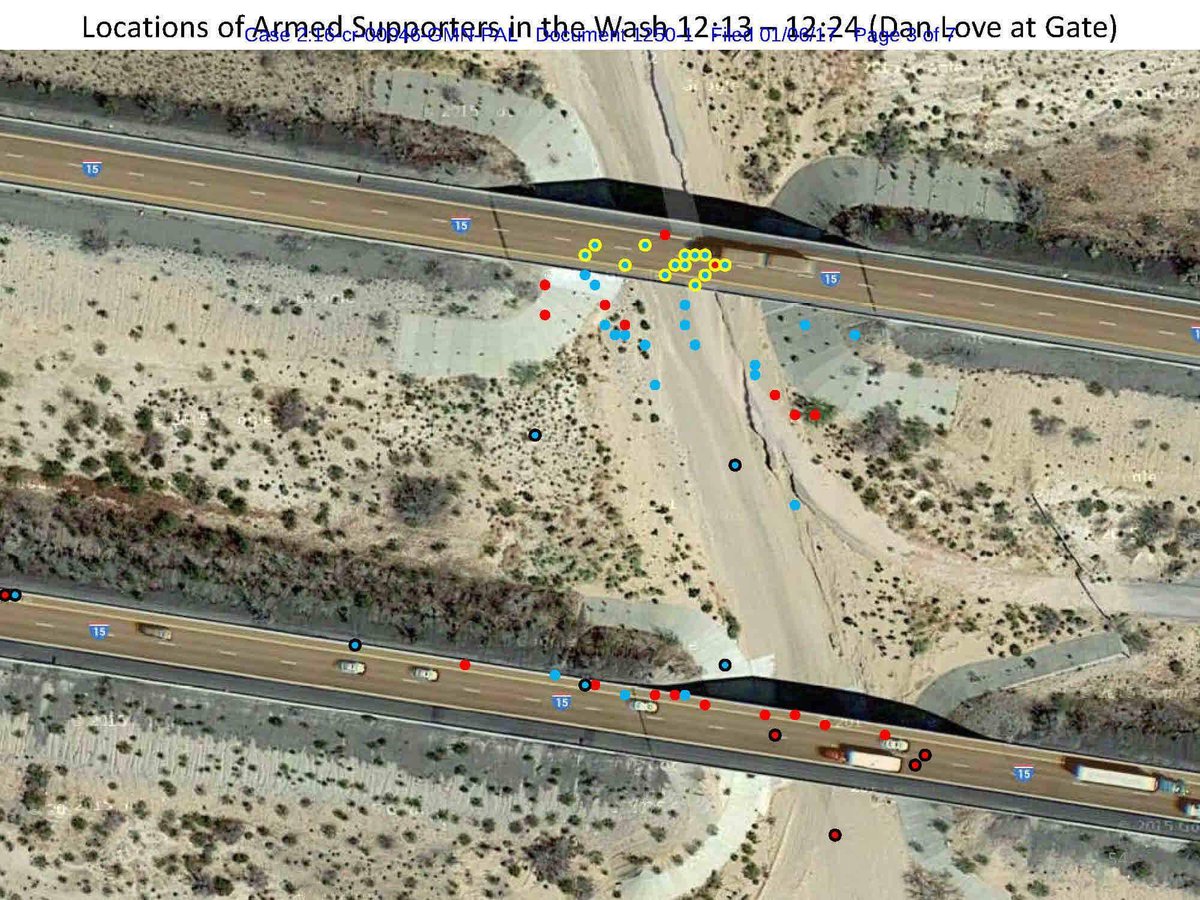 The 2014 Raid on the Bundy Ranch is being revealed as what may be called as a "Shoot To Kill and Cover-Up" Policy as the Standard Operating Procedure [SOP].
The Abandoned Cattle Gather, scrutinized as Dirty Deeds: "Hate and Deadly Cruelty Behind the Shield" was led by the since Fired for Misconduct and now possible Whistle Blower, Special Agent in Charge [SAC] Dan Love.
https://vinceucytv.wordpress.com/2017/12/14/blms-agent-love-hate-and-deadly-cruelty-behind-the-shield-the-infamous-dirty-dan
Published on Dec 14, 2017
There is a resurgence of disgust and outrage as an unnamed Department Of Homeland Security Investigator's leaked report resurfaces along with added information that Dan Love Agent In Charge during the Bundy Ranch Standoff along with other government agencies, including the Military, compiled a "hit list" to carry out after the Standoff had ended in April 2014. It is being reported that there are photographs of this list with other evidence that confirms this and other tactics to be used against the Bundy Family and their supporters. It all began with a DHS Investigator leaking information of the government tactics and plans to Doug Hagmann to Steve Quayle in an email.
Revealed is an alleged government "kill list" marked zone that placed color coded instructions upon the heads of protesters. A former investigator who worked with prosecutors blew the whistle we are told, exposing this among the many other violations by Federal entities that destroyed evidence and withheld exculpatory material. The Resurrect The Republic Show
http://ResurrectTheRepublic.com 
Democratic Senate Majority Leader Harry Reid of Nevada calls the armed campers "domestic terrorists." He says a federal task force was being formed to deal with the unrest. Nevada Republican Sen. Dean Heller says those who Reid may call domestic terrorists, he calls patriots.  http://newsok.com/article/feed/675728
(A Must Share)
Steven Myhre, the lead prosecutor in the Bundy trial in Las Vegas has been caught with his hand in the cookie jar. Along with his assistants, Nadia Ahmed and Daniel Sheess, who have been working overtime at withholding evidence of innocence in the case, as far back as before the indictment was ever even handed down.
The (BLM) Bureau of Land Management sent special agent Dan Love and his militarized goons to do the unthinkable on American soil. Dan Love had a kill list given to him by the Department of interior. With orders to kill/murder a long list of people that had gotten in the so called way.
This attack on Americans was so well planned that these very government agents cleaned up all their crimes by destroying and shredding any and all documents covering up all of their emails and conversations of criminal misconduct against the Bundy family.
Now we know that actual sniper teams were deployed to murder members of the Bundy family and supporters, and the department of justice has successfully kept all of this sealed in secret sealed court procedures up until now. With even judge Gloria Navarro being a accomplice by sealing the prosecution's misconduct from the people.
If it wasn't for a Department of Justice whistle blower who was fired by Steven Myhre, we still wouldn't have known.
Sealed secret court hearings only benefit the government and have no benefit for the defense team at all.
Steven Myhre, Dan Love and a picture of the I-15 bridges over the was wash
"If only it were all so simple! …to separate …and destroy …the line dividing good and evil …that …passes not through states, nor between classes …but …through every (Mans) …heart.
Impossible to expel …from the World …in its entirety, But …it is possible …within each (of us)."
"At what point, then, should one resist?
― Aleksandr Solzhenitsyn 14 December 2015   Vincent Easley II
see more: copied from Bj Soper
I write today to ask a few questions (to the Nevada Attorney General, Adam Laxalt) and express a valid concern of many, not just in Nevada but across the nation. The power structure that the Founders created has been turned upside down. A government of the People, by the People just doesn't exist anymore. The underlying issue of concern that I hold is that, while change is possible through proper process, none of the prescribed processes have taken place. The ultimate power lies in the People. We delegate power to government. So that we understand each other better, I understand the word delegate to mean
" A higher power giving temporary authority to a lesser power to accomplish a task"
That is the definition of government and its sole responsibility. To accomplish tasks given to it by the higher authority. We delegate this authority in order to protect the rights of our citizens. Now that we can understand the topic of conversation, I want to stress concerns taking place in our State and ask a few simple questions.
(775) 684-1100 Adam Laxalt NV AG ask for the Constituents department or email him at: aginfo@ag.nv.gov https://www.facebook.com/NVAttorneyGeneral 
The federal judge and agents are not accountable to the people because we did not elect them… However, the attorney general is accountable to We the People.
Show Up at the Las Vegas Federal Courthouse
 333 S Las Vegas Blvd, Las Vegas, NV on Dec. 20th 2017 at 7:30 to Stand United with us as We Peaceably Protest these Crimes. We the People say NO MORE.
http://dab.li/federal_government_misconduct
Live from Las Vegas at the Bundy Ranch Trial: Video Updates and Radio Reports. History and Current Events from the 2014 "Stand in the Gap" Protest near Bunkerville, Nevada.
http://dab.li/Bundy_Ranch_Reports
Real Liberty Media https://www.youtube.com/RealLibertyMedia
Recommends for the Updates on the Bundy Ranch Trial and more
MrsB Stacy https://www.youtube.com/user/MrsBstacy123
J Grady https://www.youtube.com/channel/UCDLOJt3hLfv3vOu9msSKvBw
Valley Forge Network https://www.youtube.com/channel/UC-_1sVxL3OF_iQ2LGGNQiog
Lo K https://www.youtube.com/user/seektress
http://dab.li/The_NOTICE_in_the_NEWS The Black and White in Your Eyes, Hal Anthony Delivers the "Notice in the News" every Sunday from Behind The Woodshed at 3PM ET – Noon O'clock Pacific on http://rlmradio.xyz simulcast on http://ucy.tv/btw – top-notch ORIGINAL alternative news from reputable journalists, investigative field reporters, insightful radio broadcast and more http://ucy.tv/NEWS
https://www.facebook.com/RealLiberyMedia
As Man is haunted by the vastness of Eternity, we ask ourselves; will our actions echo across the centuries? Will strangers hear our names long after we're gone, wonder who we were, how bravely we fought and how fiercely we loved
If you cannot do great things, do small things in a great way.
https://vinceucytv.wordpress.com/2017/11/13/vincent-easley-ii-online
Continuing to Stand and Witness (#303 for the Defense)
Reporting for
http://www.reallibertymedia.com – https://www.freedomsnetwork.com – http://rlmradio.xyz
Under Section 107 of the Copyright Act 1976, allowance is made for "fair use" for purposes such as criticism, comment, news reporting, teaching, scholarship, and research.